STRIKE-T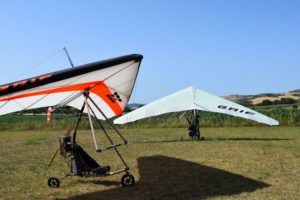 The Strike-T is a nanotrike of our own design; it includes elements that make it unique in the world:
– the project facilitates the disassembling and transport, the limited front section and the few exposed components reduce its aerodynamic drag;
– the material used: the Strike-T is made mainly of titanium grade 2, anti-stall and rear train-shock absorbing in aluminum alloy 7075 (Ergal);
– the Strike-T is the lightest minitrike on the market (weight without engine 12 Kg, 26.5 lb);
– the reduced frontal section (thin wheels, minimal structure) and the reduced weight, allow to switch off the engine at altitude and to practice a true free flight, taking advantage of the updrafts in a relaxed sitting position
It is the only one with German DULV certification and one of the few equipped with brake and elastic suspensions.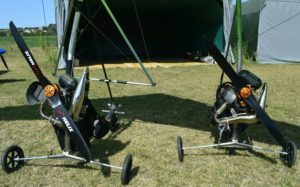 It weight extremely low (about 28 kg, 61.7 lb ready to fly), it allows the use of hang-glider wings without major changes. Alternatively, it is possible to equipe the Strike-T with dedicated wings of our design: Grif HS 11 or 13 (square meters) duble surface, or HS 14 monosurface.
It can be powered by Cors-Air Blak Devil 172 cc, Ciscomotors C-Max 175 cc, Vittorazi Moster 185 cc and, in general, with any 25-35 hp engine, fixed two-blade (wood, 130 cm or Helix carbon, 140 cm) propellers and a removable tank 10 or 15 liters.
It offers top performance with extremely short take-off space and climb rate of more than 3 m/s. The range of fly is about 3.0 h with 15-liter tank.
It is possible to mount and dismount the Strike-T in 2 minutes and it fits easily in your car.
STRIKE-S
Today is also available the Strike-S, the stainless steel version of the Strike-T. All the other components are Ergal, wheels and seat remain the same of the Strike-T.
The Strike-S weighs just 3.5 kg more than the Strike-T, but has a significantly lower cost and can be sold without engine.
TECHNICAL SPECIFICATIONS (Titanium frame)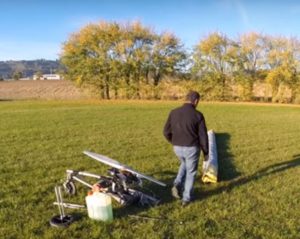 Frame and fork: grade 2 titanium argon welded
Rear train: 7075 conical cushioning.
Weight with engine Ciscomotors C-Max: 28 kg
Two-blade propeller 130 or 140 cm
Wheelbase: 140 cm
Track width: 125 cm
Dimensions (folded): 150 x 38 x 65 cm
Time to mount: 3 minutes